Description
This PINK Tees & Tights Set includes (1) High-Performance Long Sleeve Speed Dry Slim Fit Tees and (2) Pseudo 2-pcs Compression Tights.
Pseudo 2-pcs compression tight is special edition compression tights with shorts sewn together with our high-performance compression tights. It provides with an elegant look during your exercise session without you having a worry of over-exposure of yourself. And, it is greatly value-add because you don't have to spend more to buy an extra short pant to go with your compression wear.
Engineered with our latest compression technology for greater support, the AWE High-Performance Compression Tights is a lightweight tights offer maximum comfort and coverage. Perfect for any activities such as running, zumba, yoga, hiking or post-exercise recovery.
Whether you wear it at the gym, on the running field, on the court or pounding the pavement the AWE Compression Tights provide powerful muscle support and protection to your leg.
Powerful compression wraps and protects key leg muscles to help prevent soreness and fatigue and long-term overuse injuries. Graduated compression engineering combined with powerful thermal compression assists with a better warm-up in cold climates, and with faster recovery post-exercise. Also, provide extra UV protection to prevent sunburn.
High-Performance DriFit & Anti-Odor Tees Size Chart
AWE Pseudo 2-pcs Compression Tights Size Chart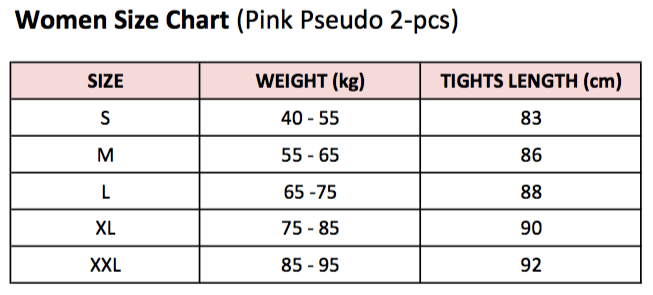 Note: due to manual measurement, there will be a slight differences between 1 – 3cm.
Fabric Materials: 12% Spandex/ Lycra + 88% Polyester